Promotion
Stands
They can be seen in a wide variety of places: Promotional stands are set up in shopping centres, on the street, at festivals or even in busy squares. They are an area where good promoters can become active and win potential new customers. This requires a good hand, the right material and, of course, the right location.
Promotion Stands
They are still the classic when it comes to generating more attention for your own company. We are talking about promotion stands. The often small and narrow stands offer enough space to present products or advertise services. However, some aspects should be taken into account.
Our
Philosophy &
Mission
We at PRO-VOGUE know our stuff when it comes to promotion. We have already been active in this field for more than 29 years and have of course implemented numerous projects with promotion stands during this time. We know what matters and that is exactly our philosophy. With our extensive experience and wide range of ideas, we put together the perfect promotion for every customer. The decisive factor is the branding of the stand, which we naturally take care of for you! This way, your brand becomes known and your image is enhanced.
24/7 Project-
manage-
ment

Our project management is available for you 24 hours a day, seven days a week.
~ 100 % satisfied customers
Our surveys show - around 100% of our clients are satisfied with our work.
Know-how
We have gained extensive know-how from more than 15,000 projects.
Only 3 steps to a successful booking
1
Inquiry
Make your request quickly and easily online via our website.
2
Concept
We create your concept. Together with you, we focus on success.
3
Implemen-
tation

Implementation is possible at any time - together we will discuss the roadmap.
Non-binding
get more information
FAQ Promotion Stands
Does a promotion stand make sense for me?
The extent to which a promotion with a stand makes sense for you depends on various factors. Among other things, it plays a role what kind of product or service you would like to promote. In many cases, a stand can be helpful.
Where do I get good promoters?
One of our core competences is to provide good promoters. Our staff are cosmopolitan, friendly and active. They approach people. However, it is particularly important for us that the promoters identify with your products. That's why they receive extensive training.
Do I have to consider legal aspects?
Depending on where the promotion stand is to be set up, registrations are necessary. These aspects are also part of our services. We will take care of the registrations for you.
PRO-VOGUE – Your agency for promotion stands
PRO-VOGUE has been active in the market for a good three decades. We have already implemented around 15,000 projects and thus have extensive experience in the various promotion areas. We are happy to implement your ideas.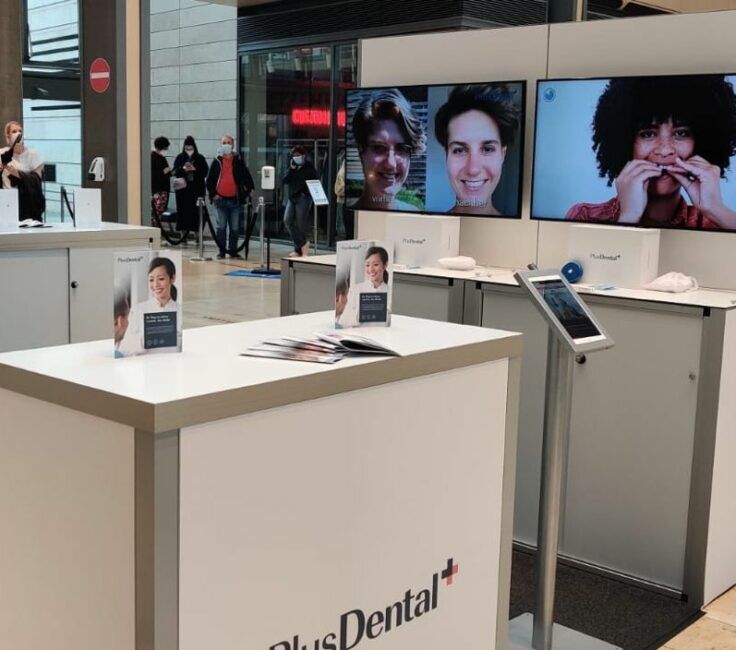 When is a promotion stand actually a good idea?
There are many forms of promotion and you may be asking yourself: which one is right for my business? We have many clients who come to us with the desire to use a simple promotional stand. But is that the right solution for your goals? Imagine you are doing a bit of shopping in town and are approached by a promoter. How would you like to be guided to a stand where you can get more information, plus materials and a small sheltered area?
Promotional stands have the advantage that people can be easily picked up here. They can stand at the stand, adopt a relaxed attitude, write something down and concentrate fully on the presentation.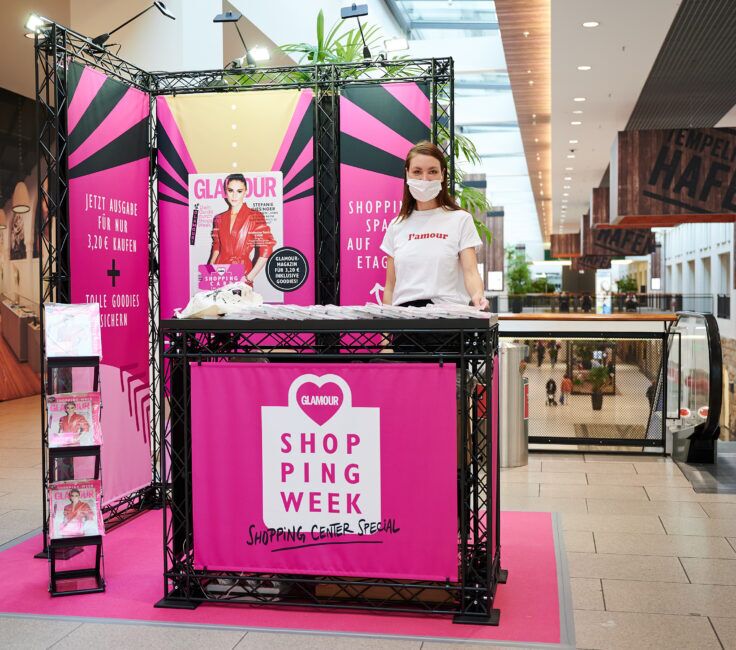 The goals of a promotion with promotion stand
The basic question we ask our customers is: What are your wishes and goals for your promotion? With a promotion stand, you have the opportunity to implement versatile ideas. It can be a very simple promotion, but eye-catching offers are also possible. It all depends on your goals and the target group you have. Perhaps you would like to generate new leads. Then you should stand out. Do you want to address certain groups of people in particular and make a particularly serious impression? Here, too, we have the right solutions for you.