Birkenstock Cosmetics
BIRKENSTOCK NATURAL SKIN CARE stands for certified natural cosmetics.
birkenstock.com/de/naturkosmetik
Aktionsart
Image promotion
POS promotion
Product presentations / advice
Sales promotion (with and without commission)
Sampling promotion (flyers, give-aways, product samples, etc.)
Branche
Cosmetics
Retail Wholesale
Trade (general)
Naturally beautiful!
True to this motto, PRO-VOGUE designed a top-class POS promotion for our customer Birkenstock COSMETICS. Spread over various locations throughout Germany, interested parties were given the opportunity to experience the outstanding effects of natural cosmetics on their own bodies.
The various promotions stretched over a total period of 4 months and were coordinated and supervised by a personal contact at PRO-VOGUE. At each location, a trained and experienced promoter formed the focus of the promotion and was available for extensive product tests and an open exchange of information.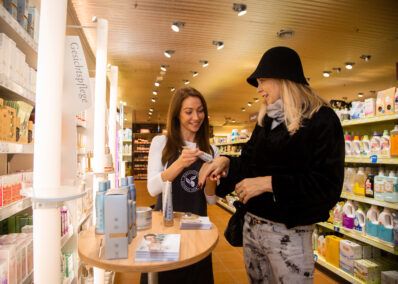 Curious?
Get a free consultation now
Similar references
Discover more examples of our campaigns carried out for over 28 years.